Is your support team prepared to deliver the ultimate customer experience in 2020?
Incite Group is a trading name of FC Business Intelligence Ltd.
Registered in England and Wales no.4388971. Registered address 7-9 Fashion Street, London, E1 6PX, UK
Pre-order the brochure here!

Complete your details below to receive the full 8-page event brochure, including:

Full speaker line-up

Agenda and key themes

Networking opportunities

Exclusive discounts

Who'll be attending
In 2020, customer experience will overtake price and product as a key brand differentiator and customer service leaders must be prepared. Customers are tired of outdated, traditional customer service. As trailblazers deliver advanced support across multiple channels, you must deliver best in class service to meet increasing customer expectations.

The 9th Annual Customer Service Summit NYC unites pioneering brands to set the bar for your support strategy going forward. Be part of a community of 350+ service leaders exploring the cutting-edge of what's possible to fulfil customer expectations.
Join this movement to reimagine the role of customer service and take your place center stage as the face of, and driver for, the entire business.

Join 350+ Customer Service Leaders and Prepare for 2020:
Scale Flawlessly and Meet Evolving Customer Demands
Ensure quality and consistency as you futureproof your support structure for 2019 and beyond

Synchronize Channels for a Seamless Omnichannel Experience
Leverage real-time data for a personalized experience, and fully embed self-serve, social, chat and portal into your contact center operations

Reduce Costs and Drive Efficiency with Automation
Build a business case for your 2019 innovation strategy and effortlessly implement, machine learning, AI, chatbots, speech analytics, and more

Redefine the Value of Customer Care
Eliminate the perception of service as a cost center, gain senior management buy-in, demonstrate ROI, and move from reactive support to proactive success

Upskill & Empower Agents
Supercharge hiring and onboarding for multichannel contact centers. Empower teams with the latest technology, diversify skillsets and unlock the potential of your agents

Hear from an Unrivalled List of Customer Support Leaders, Innovators and Strategists

We're currently organizing 2019's speaker line-up and agenda. We're gathering together those leading customer support, experience and social customer care from the world's most influential brands to set the bar for omnichannel support and ensure you are ready to deliver an unforgettable experience in 2020.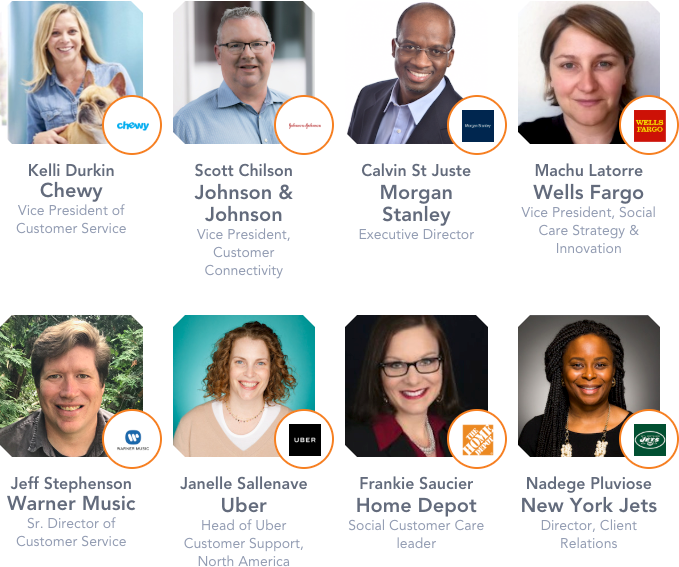 5 Reasons You Cannot Miss 2019's Customer Service Summit
GROW YOUR NETWORK with 350+ peers across the customer journey: Benchmark, debate and learn with those influencing the direction of the customer service space


LEARN YOUR WAY with four key discussions: Don't get stuck in a stuck in a session that isn't relevant to you, tailor your journey with our multi-track system and ensure you leave with answers


STRATEGIZE AND PLAN with 40+ brand speakers: No more blue-sky discussion. Leave with the tools and strategies to enact impact-driven change in 2019 with our strategy-focused agenda


DEEP DIVE WORKSHOPS and interactive learning: Attend one of five classroom workshops to brainstorm with like-minded peers and set a strategy to implement learnings on your return to the office


SAVE WEEKS OF WORK with a cocktail of insight:

Leave with more understanding of the current trends and challenges than weeks of market research and competitive analysis
With more brand representation, more in-depth tracks and more interactive sessions – you'll walk away from these two days with a practical strategy to deliver on the opportunity available to customer support leaders today.
If you are interested in hearing more about our movement, I'd love to talk through the agenda with you – just let me know and we'll set up a call.
Kind regards,