The West Coast's Top Customer Service Conference in 2019
Customer's expectations have changed, but are you keeping up?


Consumers now demand personalised, instant solutions across all platforms. As customer service leaders, we need to deliver advanced support to our customer in the channel of their choice.

The Customer Service Summit West (Jun 3-4, San Diego) unites America's biggest brands to explore the challenges for the customer service, social support and customer operations leaders of today and set the bar for your multi-channel support strategy going forward.



Be part of a community of 250+ service leaders exploring the cutting-edge of how brands can stay one step ahead of the customer and pre-empt their expectations. Join this movement to reimagine the role of customer service and take your place center stage as the face of, and driver for, the entire business.




Join 250+ Customer Service Leaders and Leverage the Opportunities of 2019:
Scale Flawlessly and Meet Evolving Customer Demands: Ensure quality and consistency as your support teams grow and adapt to ever-growing customer expectations. Outsource successfully, stay functional, flexible agile and augmented, and supercharge your agents as you futureproof your support structure for 2019 and beyond


Deliver a Seamless Omnichannel Customer Journey: Synchronize channels and provide real-time data for a personalized experience, anytime, anywhere. Provide intuitive 24/7 self-service, match tone-of-voice and fully embed social, web, chat and portal into your contact center operations


Reduce Costs and Drive Efficiencies with Automation and New Technologies: Build a business case for your 2019 innovation strategy and effortlessly implement, machine learning, AI, chatbots, speech analytics and so much more. Connect the data dots to understand new customer expectations, pre-empt their pain points and deliver a frictionless experience


Redefine the Value of Customer Care: Eliminate the perception of service as a cost center and bring customer experience to the center of the business. Gain senior management buy-in, prove ROI, and move from reactive support to proactive success


Upskill & Empower Agents of all Levels: Supercharge hiring and onboarding practices for a team ready to provide multichannel support. Empower agents with the latest technology and innovations, diversify skillsets and unlock the potential of your agents

Building on 2018's World Class Line-up of Customer Service and Social Support Leaders: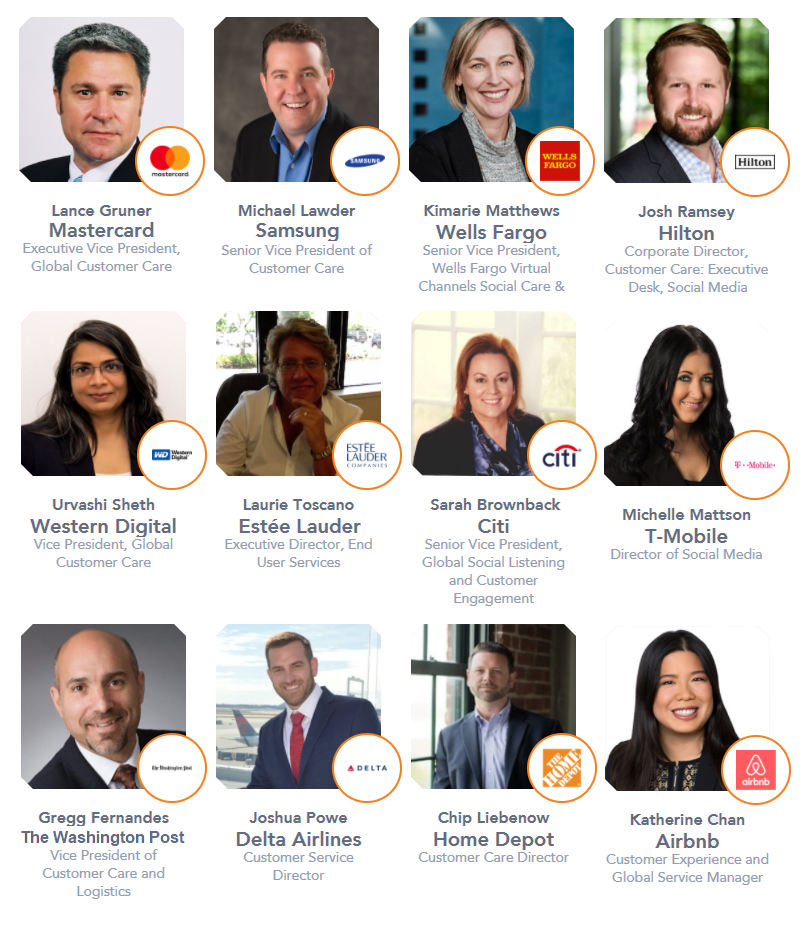 Why You Cannot Afford to Miss the Most Influential Customer Service Conference of 2019
Listen to case studies directly from executives that are at the forefront of customer service. No more blue-sky conversation! Get key insights on the challenges they faced and the solutions that worked.
Keep up to date with the latest strategies and approaches. Master the strategies you'll need for 2018 and beyond.
Learn from the best in the industry. Bringing together the innovators, industry leaders and leading providers from across the world to provide you with best-practice and innovative strategies
Grow your network with valuable contacts. With more hours of networking, interactive discussions and an online contact centre to take networking out of the conference room, this summit is the best place to meet yours peers and build your network
With more brand representation, more in-depth tracks and more interactive sessions – you'll walk away from these two days with a practical strategy to deliver on the opportunity available to customer support leaders today.



I'd love to chat through the agenda and help you work out if it's a good fit for you, so please let me know and we can set up a call.





Kind regards,

Jas

Incite Group is a trading name of FC Business Intelligence Ltd.
Registered in England and Wales no.4388971. Registered address 7-9 Fashion Street, London, E1 6PX, UK
Jasmine Kees
Global Project Director | Incite Group
International: +44 (0)20 7375 7532
US Toll-Free: 1800 814 3459 x 7532
Pre-order the brochure here!





Complete your details below to receive the full 8-page event brochure, including:

Full speaker line-up
Agenda and key themes
Networking opportunities
Exclusive discounts
Who'll be attending